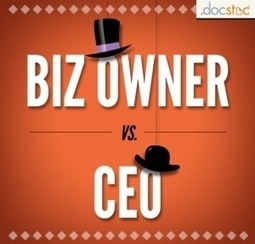 There's a distinctly different management philosophy between owners and CEOs.  I grew up watching my father singlehandedly run our family business and for the last 6 years I've had the counsel of board members who've recruited and employed CEOs of hyper-fast growth companies.  Sometimes their styles are quite contradictory.  But I've found the way to grow businesses is to selectively pick the best philosophy and tools to solve the situation at hand.  Decide for yourself whether it's better to run your business like an owner or CEO…
David Keuning's insight:
Here is my "Must Read" article for the week.  Jason Nazar really "gets" the difference between "business owner" thinking and the management style of a CEO in his post on Forbes.com.
So which one are you?  Which one do you want to be?  Read through the characteristics and see which category you fall into.
The article outlines the difference in thinking between the traditional business owner on one hand, and CEO's on the other.  Here are a couple of CEO traits that resonated with me:
Don't do work: delegate everything.   Wow, that is a hard one for a CEO who has started as a small business owner.  It's tough when you are accustomed to doing it yourself.  But you can't do it all.  As Jason puts it, "The growth of the company can't be bottlenecked by one person's individual capacity."
Give Praise, Share Credit, Encourage Critique. This is so vital to building a healthy company culture.  (More on the importance of creating a culture that has a high "conversational capacity" here.)
Coaching & Cheerleading vs. Doing & Directing. Don't spend too much time "Doing & Directing".  Instead, put your efforts into coaching your directs and cheerleading the team.  (See this article for how to act like a CEO.)
I know that many of the CEO's I work with who are also OWNERS, struggle with these issues.  It's a great read!
See the full article on www.forbes.com